Solipsism and Perception is Reality
Narcissistic and Borderline Personality Disorders -> Chaos
OR Beauty

Solipsism is a way of defining how it is that reality can be known, and it limits that knowing to only the individual.
Everything else is at most something that the individual mind makes up or knows.
So interesting
So interestingly subjectively hopeless.
Defined per Wikipedia solipsism is "is the philosophical idea that only one's own mind is sure to exist. As an epistemological position, solipsism holds that knowledge of anything outside one's own mind is unsure; the external world and other minds cannot be known and might not exist outside the mind. As a metaphysical position, solipsism goes further to the conclusion that the world and other minds do not exist."
I am not patience enough to list the foolhardy problems that arise from such a position. There is a mound of evidence to contraindicate taking such a position, if one thinks or feels at all. But then this idea is to deny all that one thinks exists or feels outside of one's own mind.
Nonetheless this manner of approaching the world is very alive and active as is reflected in many people's behaviour.
Take the two truck crews that showed up for a weekend of drinking hard ice tea, a fire and lots of smoking. One truck had a camper in the bed, the other brought in … well what passes for firewood if one thinks the world does not exist outside of one's own mind: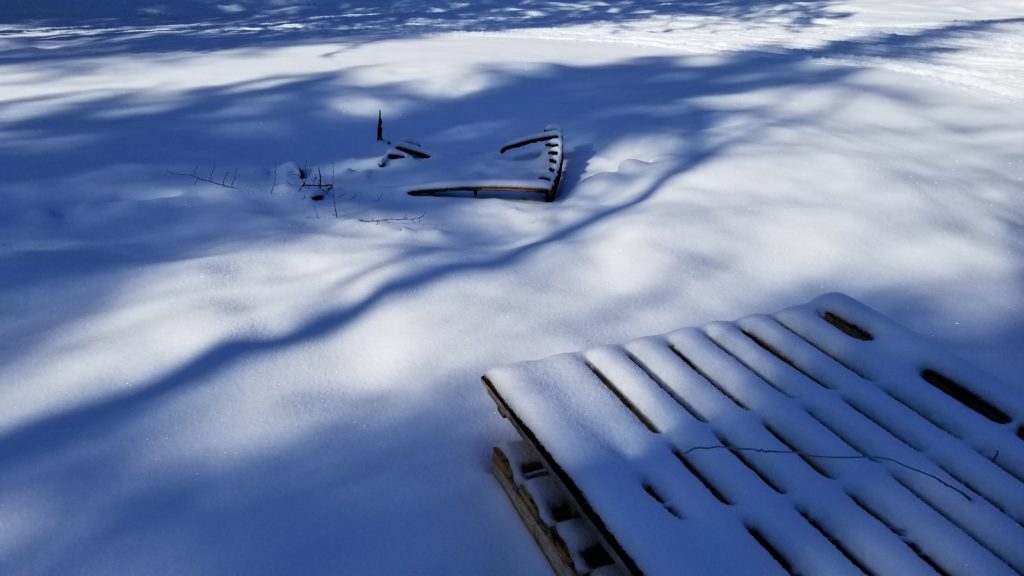 This is after a few snowfalls covered the worst of it and the cans and garbage were already cleaned up.
Any intelligent being will recognize that these pallets are a number of pieces of wood (which burns) assembled using many nails (which do not burn, adaaah.)
And that partially burned pallet sits on the ashes of at least one and likely a number of other pallets.
No effort was made to clean up the nails after the fire went out …
Or the cigarette butts, packages, broken cigarettes, all the aluminum hard ice tea cans or other garbage left strewn around the previously well kept campsite.
The real stupidity is that there is a fire ring just a foot further to the right in the photo from where the pallets were burned. There at least the nails would be contained with others through the years left behind and only partially cleaned up, not for lack of trying by myself and others. But we just do not have a strong enough magnet to make the work plausibly possible.
Of course there are laws against not packing out all one's garbage, but apparently only what is in these people's minds exists, nothing else …
Including punctured tires, feet, and injured children … oh did you all get your tetanus shots lately?
Solipsism … a fool's excuse for living with no respect for the land and other people … and even for one's self.
Which leads to some pretty dark experiences in life: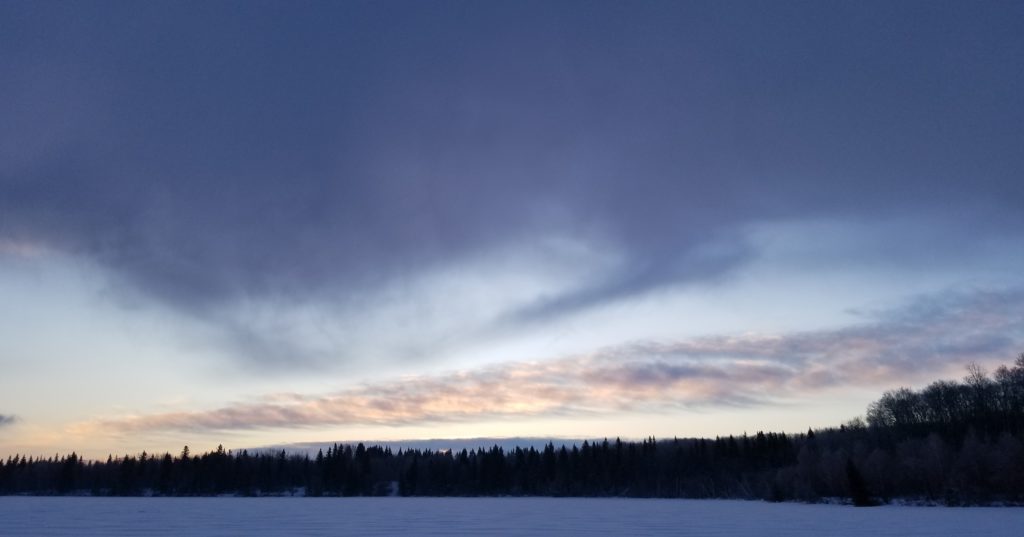 There are other variations of this destructive take on life as if it was all about oneself. High Functioning Borderline Personality Disorder hfBPD sits right there at the top, along with Narcissistic Personality Disorder NPD.
We used to have such respect for the neighbours to the south's leader, but everyone knows his proclivity to extreme and extremely destructive narcissism. Now it is more than a personality disorder, it's nationalized and affecting world order/chaos.
The hfBPD is perhaps less well known, and partially therein lies the fact that it is much more disruptive to order, more chaos producing, chaos so severe that those close to the effectively ill person end up trying everything to mollify, contain and then escape the chaos, even going so far as killing themselves.
Spouses, friends, parents, children, no one is exempt who is close.
The destructive force is so severe because the hfBPD person learns very early on in the disease, usually with roots in childhood abuse or trauma, to write a 'script' for every situation in their lives. There is no room for self-failure or critique of self. Anyone in the script is absorbed into the person's life without border or restraint … at first.
But then the craziness starts: control and abuse of every kind overwhelm life with vilification and projection of fault, relentless criticism, isolation, financial control, sexual control, gaslighting …
The hfBPD person uses everything and anything that will manipulate the other into fitting into their part in the script. Everyone in their script must adhere to their role or they are exiled. And exile is brutal: by manipulation to suicide, or ruination of reputation or even charges and convictions before the Courts for what one has not even possibly done.
But the hfBPD person is so adept and convincing and charming and adroit at creating scripts (it's been a daily requirement since childhood) that the rewrite of one's 'history' to bring ruination is believed by nearly everyone … and the Court's love it. The false story is so simple, so easy to believe, so naively familiar … and the courts go to all sorts of contortions to convict without any solid evidence, transforming obvious truths to be judged lies, and blatantly obvious lies to be facts.
Truth is lost, as if everyone watching lemming-like agrees that 'perception is reality'. That's solipsism in its most recent and destructive form:
It's true if we perceive it to be.
There are many pieces of life that must be ignored in order to embrace solipsism in any form, and that is true of embracing 'perception is reality.'
Perception is wonderful. It can, under good circumstances, provide us hosts of information about reality.
But perception does not determine reality, and oh what a spiral out of control into dark chaos it brings when a person starts to behave as were that true and reliable. When one embraces that perception determines reality then all truth is lost in a meaningless competition to make up history from as many falsehoods as one can string together… all so that one comes out on top of the heap of chaos that one creates.
There is reality and we can experience it.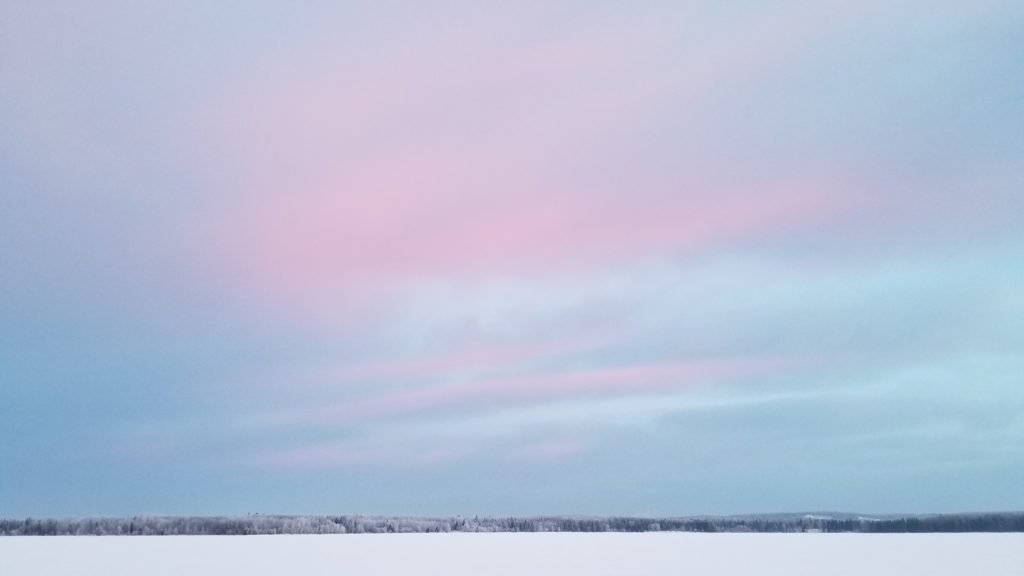 The pink west sky at sunrise is real, a pastel touch of beauty.
Yes, the sun rises in the east and yes, at this moment in the pre-sunrise suspense the western sky is lit up and the east is still dark. That's just a matter of physics to understand the sunshine of the morning sun hits the western clouds before it shines below on us on the ground observing the sun's progression, which is actually the earth's progression in it's rotation.
The gentleness of the red against the blues and greys on white of winter entice one to marvel.
Looking across the sky the colour paints a small piece of the morning.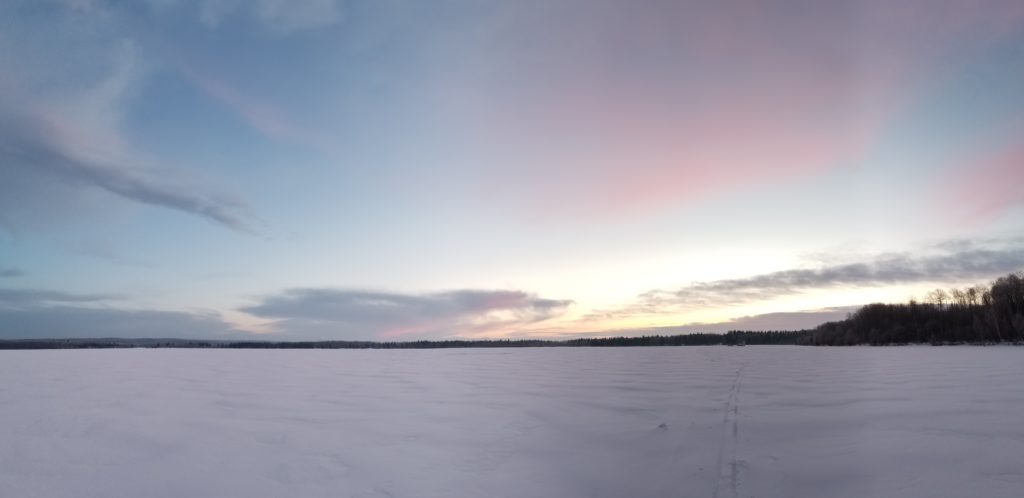 It is when one submerses oneself in the place and the moment that one marvels that such beauty follows so dark a day just hours before.
And then after the sun rises bright white above the eastern trees the brilliance reflected off the snow is mesmerizing.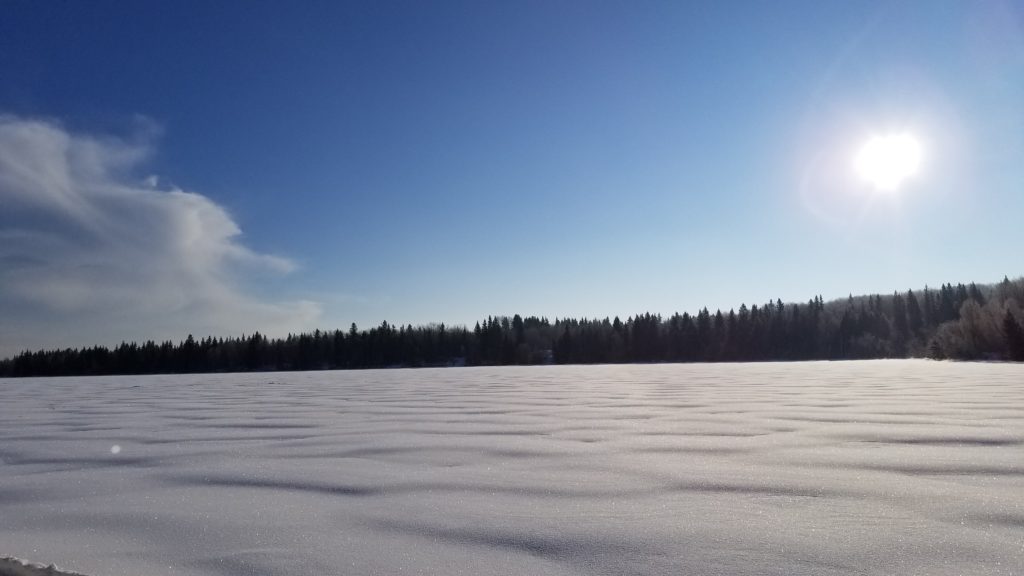 Waves of blown snow provide contour and depth perception to the otherwise too simple snow covered ice.
It is here that reality, not perception, touches one's soul and inspires one to also recognize a corollary truth, similar in words but universes distant from solipsism in all it's forms:
How we respond to reality, to all that happens to us, determines more of our lives than what happens to us.
Or to say it another way, if you cannot notice beauty, you cannot know it either.
Reality offers perception.
And if you choose to experience reality informed by faith, hope and love then you will know beauty,
And you will be one that contributes to the world by inspiring others to see the world, wrinkles, evil and all, in all the beauty that it can convey.
After all the sunrise, the pastel sky, the brilliant sun on waves of snow … all this or any other day's experiences are all that more precious and beautiful
when one also does not deny the reality of willful lies and destruction, ugly chaos, and evil.
One can fight that part of reality, or one can choose to forgive it, in order that one can still notice, with faith, hope, and love all the beauty that the world has to offer.
And then one shares the ability to see beauty with others … or not.
Which will you choose to be today?