Wednesday, August 17, 2022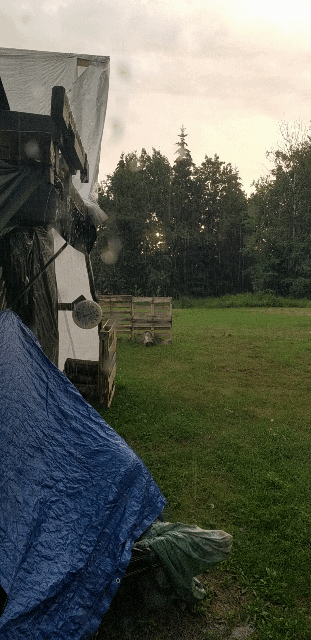 Just a Few Drops,
and The Promise
is
Spectacular.
Relief From the Heat!
1 Samuel 12:24
Only fear the Lord, and serve him faithfully with all your heart; for consider what great things he has done for you.
Romans 12:11
Do not lag in zeal, be ardent in spirit, serve the Lord.
Words of Grace For Today
There is great cause to fear God. God, with a whim and a sigh, can send the universe spinning back into nothingness, or any small part. A single mosquito, though I'd prefer a whole bunch around here, or one of us, with no more than a word, God can smite us back out of existence and remove us from the timeline.
Why serve the Lord then? Why not try to make it on out own?
Out of fear? Are we to serve God because we fear him?
That will not get us far, or rather it will send us far away from God (even as God is with as nonetheless).
We are to fear and love God because first God has done such great things for us. Like creating us in the universe. Like saving our sorry butts again and again, freeing us from our sins, even when we keep going right back to them! Like bringing us out of slavery into the Promised Land. Like adopting us as God's own children in our baptisms. Like walking with us even when we run away, and especially on the darkest stretches of life.
Thus we come to serve God with zeal. For in God we know we are saved, nestled in care and love, and protected from all Evil … oh, and given every hope even when we despair.
In the heat of the day, God sometimes reminds us how great God is. It rains. While it's been 32⁰ out and much hotter in the sun, and humid, and sticky, and it's so close inside even if it is a few degrees not so hot, we breath heavily and sweat a lot.
Then it rains hard and heavy for a few minutes, dropping large drops everywhere, freshening the ground and the air is heavenly … and cooled down to a comfortable 19⁰. Great for sleeping a good night's sleep. So there's that, too! And all our enemies are stymied by God knows what, and we live safely. So much for which to give God thanks. So with what is left in life we serve God, and God alone.
For we breathe.