Monday, July 11, 2022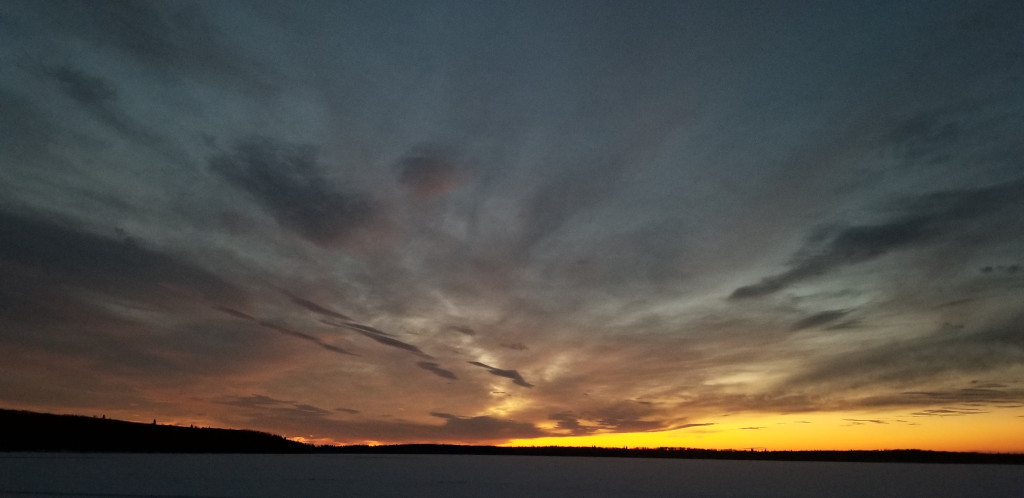 As Far As The Horizons Stretch and Beyond:
There's Lots of History, Everywhere, for Everyone,
Can You Be Thankful For Yours?
Jeremiah 16:19
O Lord, my strength and my stronghold, my refuge on the day of trouble, to you shall the nations come from the ends of the earth and say: Our ancestors have inherited nothing but lies, worthless things in which there is no profit.
2 Corinthians 4:8
We are afflicted in every way, but not crushed; perplexed, but not driven to despair;
Words of Grace For Today
As I started to contemplate that nations will come and say that their ancestors had left nothing but lies to inherit,
a big, old, fat fly started to disrupt my view. Caught my attention it did. Distracted me, until it was dispatched.
Flies are not good to have around food, eating spaces, sleeping spaces or any living space for that matter.
I suppose I 'inherited' plenty of flies and wasps from someone. I'm sure it was not my ancestors, though Grandpa Sam and Grandma Dorothy did have an outhouse above the lake cottage on Lake Wabedo, back when it was an isolated lake. After each used we'd scatter a cupful of ashes down the hole to deal with smell and flies. Still there were always a bit more of both than I cared for. I also remember once in my University days arriving and finding the parking spot I chose was free because everyone else arriving earlier knew there was a wasp nest on that corner of the garage. Flies and wasps: I'm sure that since Lake Wabedo is more than 12 hours by car away, and that was about 3 or 4 decades ago, those flies and wasps have no direct lineage or causation effect on the fact there are flies and wasps here.
My ancestors, that I know of, where respectable people. (Thank you Goldie, Dorothy, Sam, Dort, Dennis.) I have not discovered any lies, foundational or formational or simply for the lark of it that are part of the family heritage. I count my blessings. I have a hard time imagining how devastating it must be to grow up knowing or to discover later that one's ancestors passed down a pack of lies and not much else. I have seen the parents and grandparents who are such people, but the children were unawares or unapologetic, as they began a life of lies themselves, without regret or awareness of their great loss in doing so.
I have noticed friends of our offspring being very appreciative of us parents, since by comparison I guess we measure up as pretty decent, or the only parents of their circle of friends who are kind, gracious, welcoming and generous. I feel for the adult children who have parents whom they would rather forget, for remembering is costly.
We certainly can say with Paul: We are afflicted in every way, but not crushed; perplexed, but not driven to despair. It's not like life has left us unscathed, unscarred or un-'rewarded' for the good we've done. Life has at times knocked the living daylights out of us, for sure.
We are afflicted, perplexed, not crushed, not driven to despair. And we remain grateful for all God's blessings, even if I am homeless, living off the grid in the wilderness. People hear that and say they always wanted to do that- it must be fun. – No, it's just hard, and then harder, and quite dangerous pretty much every day. Weather getting more severe is a greater portion of that danger, though the greatest danger still remains the two legged wild animals that are fuelled by unnatural things, like drugs and revenge (for nothing I've done) and jealousy (that I can survive in the wild.) The wonders I experience do not make it safer, but they do make it blessed.
In fact, by celebrating the Eucharist each morning, my time is blessed, and this space, this piece of wilderness, is consecrated and made holy. I get to live in a sacred place. Nothing beats that!
In the face of each life-threatening adversity and challenge that I face I am shown again and again that God is my refuge from trouble and my strength and stronghold in the face of every adversity and challenge.
Nothing beats that.
So another day starts, and though it will have it's dangers in quantities most people would run from, I know that in this sacred place and wherever I go all will be well, all will be well, all manner of things will be well … so onward with the work to meet the needs and best preparations for safety in the coming months.
How is your past and present measuring up?