While the darkness imposes itself on us at such quantities and qualities that cannot ever be denied, at times overwhelming us, and all of us, humans that we are, eventually even unto our own deaths … yet there is always light.
Light exposes the truths that are hidden, hidden by darkness and by blindness chosen so as not to have to face reality.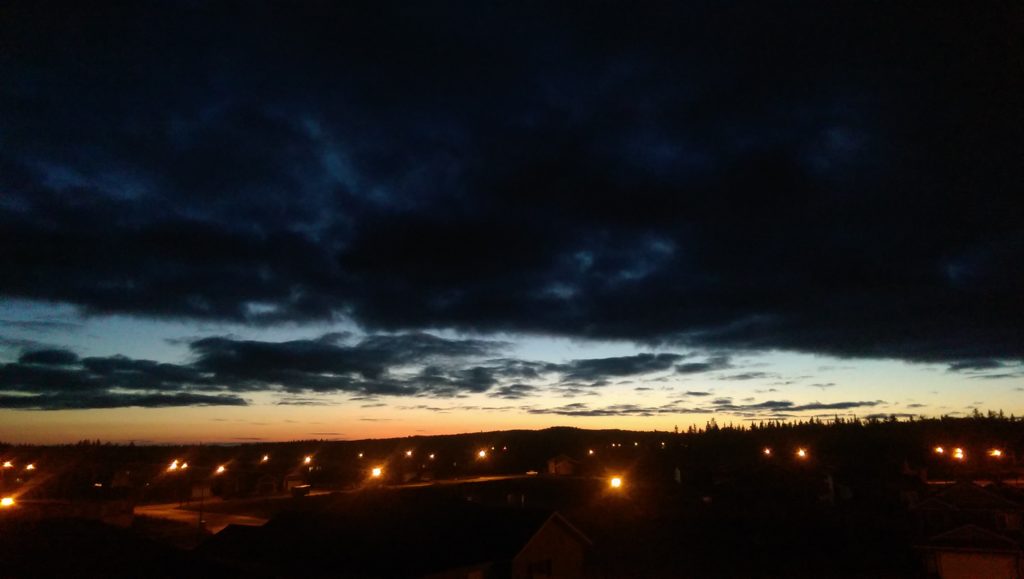 While the NW sky even at 23:45 is mostly pressed into darkness, we fight back as always with light, small light, wasted light, light that is to provide for safety, a safety of ourselves from ourselves, the most dangerous wild animals on earth. Our light is incomparable to the light of the world.
Yet we waste even our minuscule light allowing much to interfere with the true light and the true beauty of the darkness. Our light pollution is maddening, for there are lights that do not toss light upwards and outwards, but limit their disruption of the nature of night to a downward funnel, so that from the fourth floor, and even not far from the multiple cones of light illuminating the threat of darkness, one can see the wonders of the sky, the stars, the moon, and even the profound deep darkness that night is; and wonder at how marvellous it is all.
To know oneself is to know the darkness and to know the light reflected into oneself, and made visible in many and various ways.
It is to comprehend oneself in relation to all of the universe. Of course that is impossible, we are finite, but it is to understand and be ever curious about how the world is, and how it is that people do what they do to live in the world. And how one fits and does not fit into these various efforts to survive what otherwise would surely kill us all: the lack of air, water, food, clothing, shelter, meaningful labour and unconditional love received and in response also given.
It is on the one hand to strive, as if building a tower of Babel, to gather others together in community to strive, not to be gods or to displace God in the heavens with our efforts (the Babel error), but to make life whole for all, to strive to reach towards the heavens and to do the work of God, the work of Grace; which efforts cannot succeed, but are worth everything in the striving to do, for God completes for us great grace.
It is on the other hand to recognize humbly that not only will one strive to build the tower, as if to displace God and to falsely claim to be gods, but one will always fail at that effort, and fail miserably to one's own disgrace and to great cost of those around one. Yet God will take of our efforts even to displace God with ourselves as gods, and God will redeem these efforts and out of them created miracles, the miracles of Grace, of Blessedness, of love and hope.
The question is only will one see oneself building the Babel, and it's lie; and at the same time see God's gracious hand (not reaching out to take us into the heavens) but coming down to us at our own level(s) to be with us, redeem our foolishness, to forgive us, and to give us the fullness of life; and that repeatedly each moment of our lives, but only by Grace, as undeserved gift to each and all of us?
We live then not striving to please God (an effort that continually not only fails but kills others and even ourselves in the process), but knowing that God has made us pleasing to God, we are free to do and be whatever … not so that we are free to behave so that God has more to forgive; but instead to be in this universe in such ways as to bring life, the same gracious life God repeatedly gives to us, to bring the fullness of life to others.
We can choose to behave toward the stranger to bring our behaviour to them so as to expect and in fact pull out of them the best in them, to assume that is who they are, and to interact with them trusting that they also wish to be their best also with us.
We can choose to behave toward our friends, the closer the more honestly and completely, to reflect back to the both the dark, destructive choices they are, AND the blessed goodness that God places in them in each moment.
And we can choose to behave toward our spouse: to be the most honest reflection of them back to themselves; not leaving out the evil that is the beloved, nor any of the blessedness that is the beloved, to give them the greatest success in knowing themselves most fully, for them to know the universe and their place in it, and for them to know God and God's relationship to them which frees one to live full of grace, love, and hope.
And to hope that from strangers, our friends and one's spouse, one will receive this ongoing loving revelation of who one is in this universe.
This is not easy, simple, or common, giving this gift of insight grace to others. It is easy to make the attempt half heartedly or even not at all, and to fail in either of two directions: either in giving only darkness or in giving only a rose coloured glass version of reality.
In either case the same darkness that destroys life
by giving the spouse or other only the reflection of all that is wrong with them,
or by giving the spouse or the other the reflection of them that leaves out all that is wrong with them.
The most devastating destruction comes though when one's spouse not only critiques one constantly, but does so falsely. Either she does this because she knows only darkness and cannot see the light; or she sees the darkness that is herself, cannot face it, so instead projects it on to the spouse.
In this 'dorian grey' like struggle to survive without blemish, the spouse literally sucks the life right out of you until there is only death. Even if one still walks on top the grass and the dandelions are down one is left a shell of what once was a live human.
To know oneself wholly is impossible, but to strive to know oneself fully, both darkness and light, is to strive to bring life and grace to others.
To know oneself is to be humble, curious, and gracious, enough so that one can gently laugh at the limits that one is in the world; and to gently speak the truth to others, of their limits and gifts.
Reality is wonderfully composed, and never does it yield to darkness nor to pure light; for either is only knowable in this universe in conjunction with the other.
The darkness of the summer night and our human efforts to over come darkness with our own lights.
"A smile is the beginning of peace." St. Theresa
So let us begin …
by gently, lovingly, smiling and even laughing at ourselves,
at the darkness that otherwise is so destructive,
and the light that is such a miraculous gift.
And in the morning the light and fog compete as the early summer light invades the sleeping hours of most.