Sunday, June 26, 2022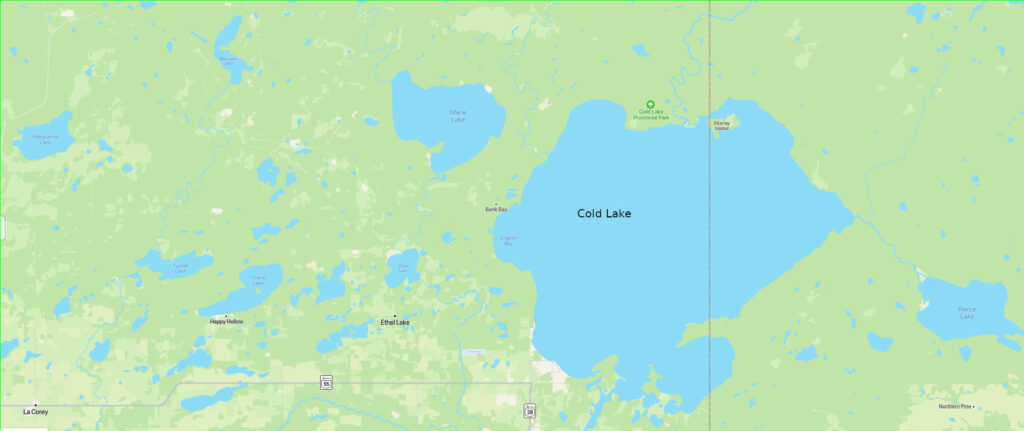 Great Country,
God's Country!
Humans Doing Their Best
to Undo It All.
Psalm 71:20
You, who have made me see many troubles and calamities, will revive me again; from the depths of the earth you will bring me up again.
John 14:27
Peace I leave with you; my peace I give to you. I do not give to you as the world gives. Do not let your hearts be troubled, and do not let them be afraid.
Words of Grace For Today
For generations people have gathered at the smaller lakes surrounding the larger Cold Lake. Cold Lake's 210 square miles of water surface stretches for 21 km and it's 142 meters depth keep it cold even in the hot short summers. While it has a great variety of fish, it's catch and release today. Back as long as memory serves (some days that's just hours) people of the area have gravitated to the many smaller lakes that dot the bush around Cold Lake. They warm up in the summer making swimming a real possibility (sort of) and freeze over sooner in the winter making ice fishing possible much earlier. Their smaller size also means that storms year around and the cold winds of winter are less drastic. Sometimes that's a real factor when out fishing. And it makes for a better camping experience when camping, which usually means June through August, and maybe also September and May, for most people. Only the hardiest camp earlier in March and April and later in October and November. Only the real desperate homeless or the most die-hard campers stay at all in or through the winter.
The problem with the campers through the generations is that, while camping in a number of areas is by reservation and with payment only, there are plenty of 'free' places to camp, some even legally. That 'free' cost has meant that a number of people, incapable of caring for the land or water or other people have gravitated to these 'free' sites. During Covid restrictions they were abused as places to gather huge numbers of people to party, drink, eat, and drug up with no measures for anyone's safety. Long before Covid the 'bush party' attitude descended on a number of these sites as well. Annual 'Grad Parties', organized by parents and grandparents descend on these sites, bringing hundreds of young people to drink, drug, and music their sanity into oblivion, as if that were the best life had to offer them. While a 14 day limit exists, there are many who claim the 'right' to camp for months on end. Among the many who have shown up and still do camp more discreetly are known drug dealers. The traffic in to their campsites to share a drink and buy supplies is constant. Now it's into the third and fourth generations of people who show up, demanding that they have a heritage right to party away, without any limit, their brains, bodies and souls. To hell with the land, the trees, the animals, the water, or other people. Their claim extends to the surrounding privately owned land as well. They bring the loudest 'toys' to rip up the ground, traverse the private lands, belching noise and fumes as much as possible, exercising their 'rights' and demonstrating the value of their lives.
The land, the water, the animals, the trees, the sane people ask: where is peace to be found? Those with enough money find a quieter lake, buy property, and secure their piece of paradise with their money and ability to pay taxes, build cabins, and fence out intruders. Those without any money or choice to live elsewhere wonder aloud: how long oh Lord, how long, before peace is possible, not only when the bitter cold keeps the most dangerous of animals away?!
Would it not be nice to know that blatant disregard for life is only present here? It is everywhere. It is obvious here because there are fewer things that provide 'cover' for the abuses of life.
Yet, when the abuse subsides for a few hours, a day, or a week, even though nature may storm away, biting bitterly cold or thrashing wildly with ferocious winds, the beauty of God's creation not visibly overwhelmed by human domination renews one's spirit.
The unrelenting human need to draw out energy from the ground is all around: with bitumen drilled for, extracted, processed and shipped out. Though in the woods one can ignore it for the most part. Knowing eyes and ears discern the mark oil extraction has made everywhere.
So we pray: "Lord, when will peace come to this land, and to it's people?"
Even if we are not afraid, how long before the nights are not broken by loud 'music' or exhaust pipes untamed? How long before drugs, alcohol, 'music', and sex are not constant escapes for so many people who might otherwise have lived productive lives? How long before … before your blessings flow to these people so far lost from life as you created us to live it?
How long, Lord, before, You, who have made me see many troubles and calamities, revive me again?
How long before your peace is apparent each day?
Or is it enough that it is only occasionally to be found here?