Thursday, June 30, 2022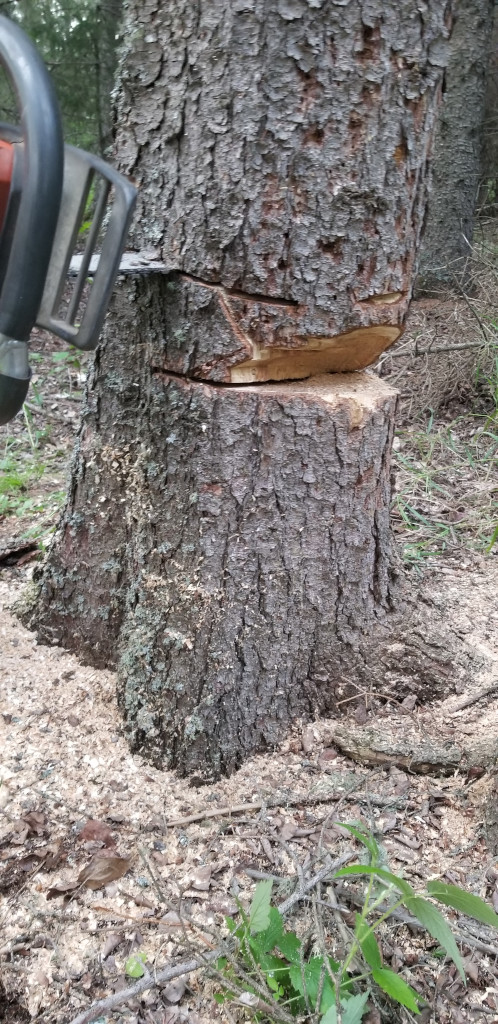 The wedge is there on the side of the tree towards where it is markedly leaning, with a long back cut towards the other side. And there is a cut above it, made by poking the saw nose first through the tree! That's an unusual, often dangerous cut to make, and completely unnecessary here. So what was he thinking?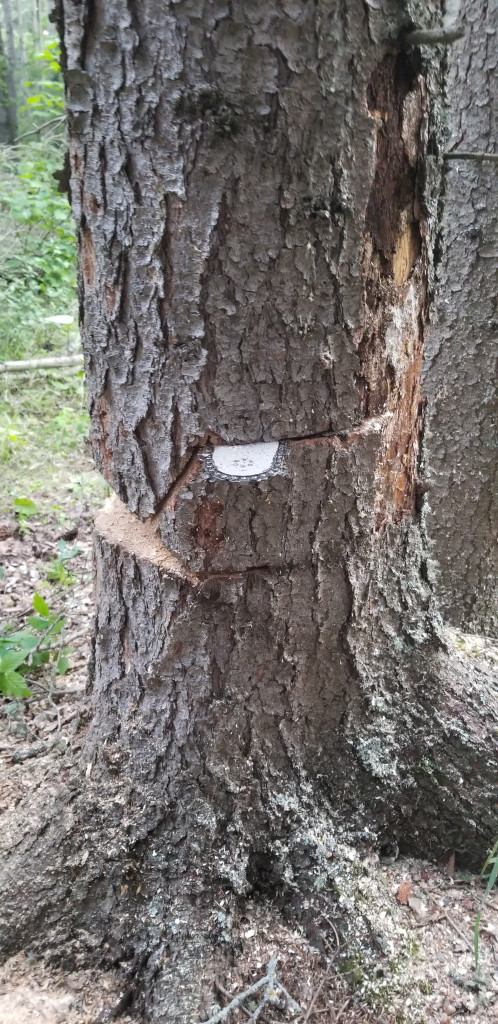 Here you see clearly the angled cut made up into the top cut. What was that for? It guaranteed the saw would get clamped by 3000 lbs.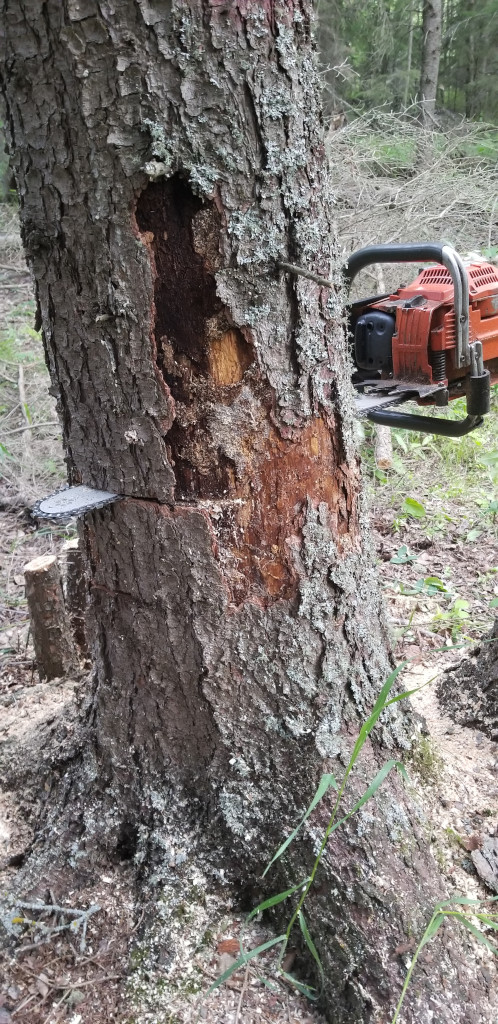 From the other side you see clearly the cut that was not made, which left the tree hanging and clamping his saw. When I arrived the idea they had tried was to 'push' the tree over. Really! Physics is pretty much unbiased: two people totally maybe 300 lbs are not going to break that much tree fibre by pushing with all their might. That's what saws are for.
Exodus 15:2
Moses started off his recounting God's great deliverance through the Red Sea: 'The Lord is my strength and my might, and he has become my salvation; this is my God, and I will praise him, my father's God, and I will exalt him.'
Luke 1:49
Mary said: 'for the Mighty One has done great things for me, and holy is his name.'
Words of Grace For Today
Lordy, Lordy, what was he thinking?!!
Sometimes it is hard to figure out what motivates people or what they were thinking when the started down the road you find them on.
Take the man and the woman who found themselves cutting down a tree on private property (not their property at all) claiming they thought it was public land, as if that would make it better. His excuse was it was dead already.
(Now I was done for the day, tired and sore. There was just enough time before the late sunset at 22:00 ish to get a shower and be in bed to enjoy not being awake still for the almost as-late-as-it-gets-all-year sunset. Then I hear voices, excited, and a chainsaw revved up, working a cut, then another, then another, and then … hard to tell what that sound was, by then I'd found the three of them, and one was as it should be … the chainsaw, because even if it was stuck, it was doing exactly what it was designed to do, letting a fool get into trouble and saving his butt. My first question was, "What were you doing?" "Cutting down the tree." "Yes, I see that, but what were you doing with those cuts? I'm curious and always willing to learn. I've been around a lot of tree felling and I've never seen any cuts like that?" To which he just got belligerent, swore and refused to talk, like a teenager caught in something stupid and inexplicable.)
Yes, the tree was dead, but what was he thinking going on private land to cut down even a dead tree.
He challenged the information I gave him that this was private land he was cutting down a dead tree on. He asked about all the other campers out here.
Well, that's hard to figure since the neighbouring piece of land is public land, either crown land or municipal district land, that people have used and abused for generations as a camp and drink and drug and bush party place. Admittedly consumption of marijuana is legal and the current government has made it legal to drink in the provincial campgrounds, and then only at your own campsite. It's still illegal to use other recreational drugs anywhere (well almost, since there are safe sites and cities where possession of small amounts is still illegal but they have permission from the government of Canada not to enforce those laws) and it's still illegal to walk away from your own camp and drink, or to drink on public land without a campsite of your own. Which means that Uncle Bill cannot come visit you where you are camping and legally down a beer with you, or smoke a joint, or shoot up some 'joy'.
That all said, the neighbouring piece of land is public land and it is illegal to cut down a standing tree (living or dead) on public land (unless you have bought and paid for a permit to do explicitly that.)
So what were these people thinking or planning?
More concerning is, if one takes a look at the cuts the guy made with the chainsaw, why did he intentionally get the chainsaw clamped in the tree?
There are lots of ways to bring down a tree, many of them very dangerous that you can get away with until that last time when you don't and that's the last thing you do in this life. These kind of cuts are like that: intended to get someone killed.
He was luck, extremely lucky. He went to fetch and axe to cut the last few inches that held the tree up. I went and brought back the chainsaw I borrow and waited. I offered to cut it carefully while he held his saw. No, bravado and stupidity won out and he proceeded to whack at it with his dull axe until the tree fell, all ~3000 lbs of it and his chainsaw hit the ground, luckily clear of the tree.
And there the dead, felled tree sits, 200 yards from the property line, in the middle of the woods, not even near a road. It's pine so it's not safe to burn in a stove unless one cleans the chimney very often, like every two weeks at least. Lots of fuel (with that sap that sticks around) to burn, but there's no good use for it.
This guy is one of God's creatures. What was God thinking when this guy was created?
As for me, like Mary, I can say for the Mighty One has done great things for me, and holy is his name. And with Moses: The Lord is my strength and my might, and he has become my salvation; this is my God, and I will praise him, my father's God, and I will exalt him.
But what was God thinking? And what was that guy thinking: 'gonna test God's ability to save me?'